The art competition "Old works and activities in a pre-war village and a town" is settled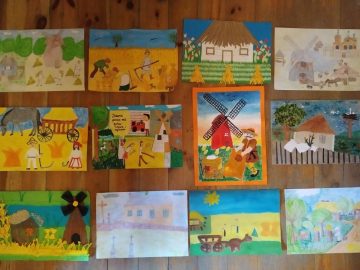 On June 1, 2020, at 12:30 The Competition Committee selected the winners of the family art competition entitled "Old works and activities in a pre-war village and a town."
I, II and III places and distinctions were awarded.
It is impossible not to notice that our museum windmill was an inspiration and a dominant motif in the submitted works, and the authors associate rural activities mainly with field works such as harvest. There was also an original perception of the museum exhibition from the perspective of the work of a priest in a town parish, a rural beekeeper and a housewife ventilating pillows.
Congratulations to all participants of the competition, thank you for having fun together and we encourage you to further creative activity!
* We will contact you individually to inform you about the collection of prizes.
Kategorie: News | Data dodania: 1 June 2020