MEET THE CULTURAL HERITAGE OF THE LUBLIN REGION
– The Museum for schools.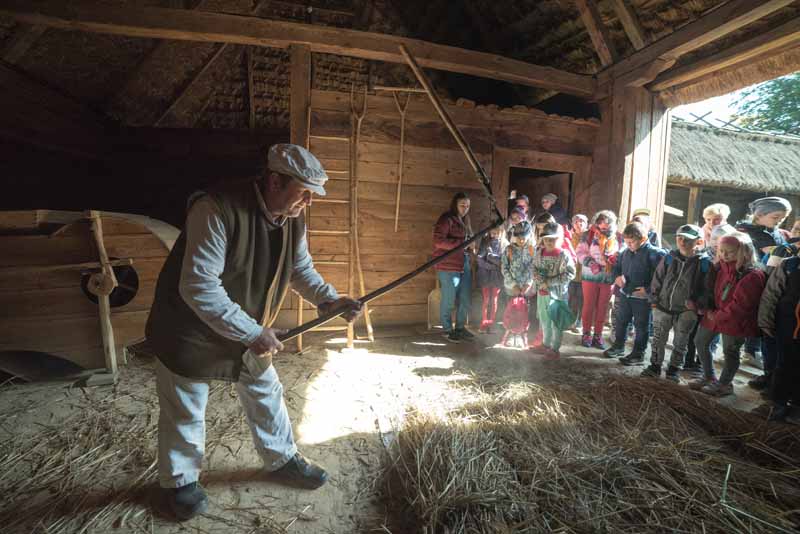 On September 27-29, 2022, the Lublin Village Museum organizes the event devoted to the cultural heritage of the Lublin region, named Meet the cultural heritage of the Lublin region – The Museum for schools.
It is a three-day educational program that has been taking place in our Museum for 20 years. Each year there are two editions, in May and in September. During these days, our guests will have the opportunity to meet the traditional craftsmen (mainly Roztocze and southern Podlasie) and see their work, including the tools and methods.
In order to enable the students to participate actively, there have been two 2.5-hour thematic paths prepared, with five stands each (the presentation at one stand takes about 25 minutes). Within one thematic route five groups will be able to move at the same time. In total, 10 groups will be able to participate in the morning, between 8.40 and 11.05. The same in the afternoon, from 12.00-14.25.The Museum provides a guide assigned to each group.
Workshop ticket fee: PLN 40 per participant (the price includes the guide fee);
Groups max. up to 30 people.
The museum is only able to provide a guide to pre-registered groups. One guide can lead a group of up to 30 people! In a situation where the group is larger, a second guide should be booked. In order to make a reservation for groups, please contact the Department of Education and Promotion of MWL, at the phone number 81 533 85 13 ext. 20, e-mail: Edukacja@skansen.lublin.pl.
Kategorie: News | Data dodania: 6 September 2022